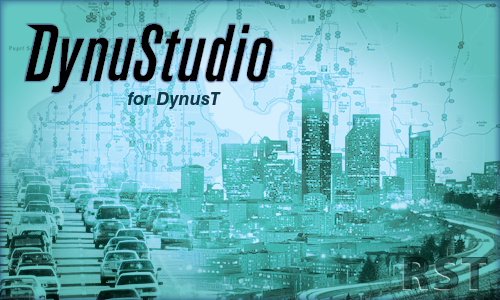 DynuStudio™ is the latest graphical and data management system based on more than 10 years of development to fully support the open source DynusT™ mesoscopic dynamic traffic assignment (DTA) model. With DynuStudio, users can convert GIS based planning networks to DynusT, edit networks and input additional information, manage scenarios, run DynusT, and visualize DynusT network simulation results for debugging, analysis and presentation purposes.
DynuStudio's unique features include:
  GIS coordinates are retained in double precision,
  Easy network import from shapefiles,
  Fast response for large network manipulation,
  Full-fledged network and data editor,
  GTFS import and transit network editor
  Layered plotting mechanism for easy data viewing,
  Dynamic Google Map overlay & KML export,
  Intuitive scenario management,
  Signal editor and timing plan generator,
  Dynamic output animation in bandwidth plots,
  Visual diagrams for departure/arrival profiles and time-of-day statistics,
  Visual scenario comparison in bandwidth diagrams,
  Dynamic vehicle trajectory animation with modes and delays highlighted in colors,
  Dynamic vehicle trajectory plots for selected links and vehicle IDs,
  Bandwidth plots for selected links and zones,
  Demand OD flow plots,
  Route travel time (TDSP vs. Instantaneous) profiles
  Route time/space heat plots
  Network and GIS attributes calculators for flexible data operations, and Advanced data manipulation with embedded Python scripting and API.

DynuStudio Desktop
Animated Bandwidth Plot for Various Performance Measures
Animated Bandwidth Scenario Comparison Plot
Select Link, Zone and Vehicle Plot
Detailed Vehicle Trajectory Status Animation
Vehicle Trajectory Animation Scenario Comparison
Demand Origin-Destination Desire Line Plot
Embedded Python Script Editor and Manager
Animated Trajectory and Node Delay Plot
Signal Timing and Phasing Editor
 Sample Animation Videos